Sold Items
The following items have been sold but I'm leaving them here for reference purposes:


RAF WW2 Type 48 Microphone Assembly

10A/14381 (incorporating 10A/12570)

Mint condition with original box. Nice Air Ministry mark. £50 SOLD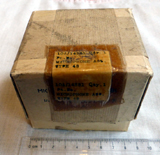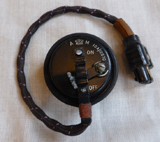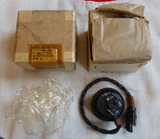 WW2 Military Handcuffs

Marked 3284, RCS, 1941 on the ends of the locks. Also marked with a broad arrow and the number 86. These were manufactured by Ruben, Craddock & Sons. In working order. Key has matching serial number. Usual patina for old iron. £75 SOLD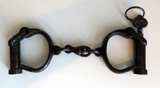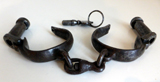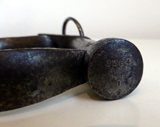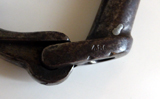 WW2 Polaroid All Purpose Goggle Kit

No. 1021

Issued to various sections of the American armed forces - including the Air Force. Occassionally used by RAF pilots (see Luftwaffe vs RAF Flying Clothing of the Air War 1939-45). In excellent condition, complete with spare lenses (which have some glue residue on them from the protective covers). £75 SOLD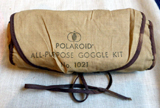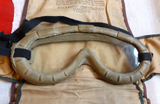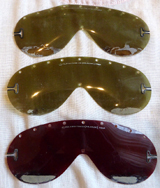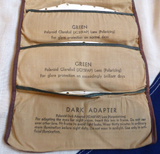 RAF WW2 Navigator's Stop Watch Mk 3A

6B/221

6B being 'Aircraft Navigation Equipment'. Also marked 27218/43. Condition is well used and the movement is faulty. You can wind it up - but as soon as you let go of the knob, the hand just spins round. Usual damage to the back case where people have tried to prise it off (I used a watch case tool to take the back off). £30 SOLD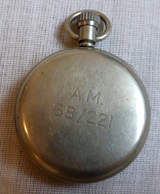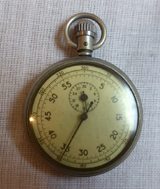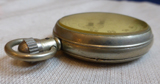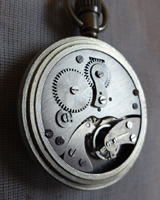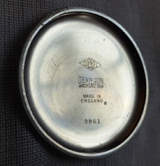 RAF Mounting Plates

6D/3436

For the G Type Flying Helmet. £7 each SOLD





RAF WW2 Officers Shirt Collars

Not dated - but typical of the WW2 style. I have 4 of these (all size 15 ½): Two made by Van Heusen and marked 'RAF Style' - excellent condition with a 'wax' finish. Another with no markings - has a few very small spots on the inside. Last one has the 'Trubenised' logo and has a spot near one of the front edges of the collar. £5 each SOLD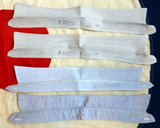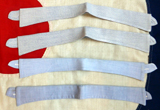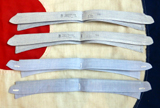 RAF Life Jacket Accessories

The sort of things you would find in a Mk 7 Mae West. A water activated light marked 5J/3411 (this one dated 1981). 5J is 'Accumulators, Batteries & Cells'. It is complete but I have no idea if it works. The heliograph is made by George Ibberson and is complete with razor blade and folded instructions. I have also included the correct type of whistle - 'The ACME' - which replaced the tube shaped whistle from the 1950's. £15 SOLD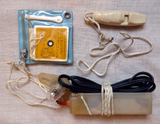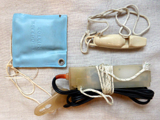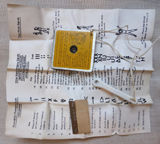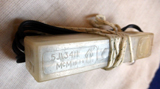 RAF Mae West Bladder

(Stole, Life Jacket, Aircrew, Mk2)

22C/1182

Will fit the classic Mk2 - Mk 7 life jackets as used by the RAF throughout the 1950's/60's. Fitted with the oral inflation valve. Excellent overall condition - nice and supple. A small cut at the base of one of the lobes (see pic). You'll need to patch this if you want the bladder to stay inflated. Some staining as usual. (CO2 cylinder available separately). £35 SOLD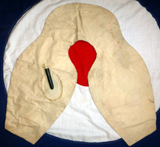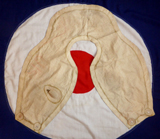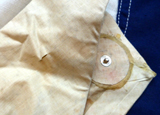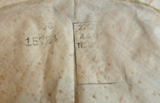 RAF Mae West CO2 Cylinders

6D/3332

These will fit the bladders (stoles) for the Mk2 - Mk 7 life jackets. Mint condition in unopened packaging (and therefore still 'live'). See pic for example of one I opened. £20 each SOLD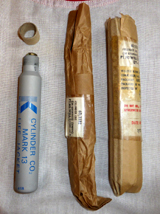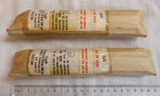 CO2 Cylinder Operating Head

Not actually sure what this variant is called. The 'knob' is almost identical to the ones used in the RAF Mk2 - Mk7 life jackets (Head, Operating, Type M, 6D/1624), but the gas outlet on the side is missing. I have seen this version used in the Army Parachutist Life Jacket from the 1960's. You pull the knob which is connected to a short chain. This in turn punctures the cylinder via a needle in the base. In working condition. The rubber seal above the thread is split and a bit delicate. (cylinder available separately). £15 SOLD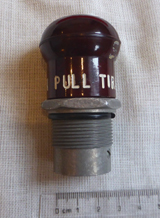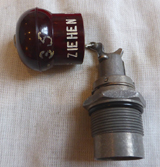 RAF Dinghy Repair Outfit

27C/2405

Dated 1973. Still sealed. Probably originally issued for the Single Seat Liferafts in the 1960's. £15 SOLD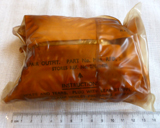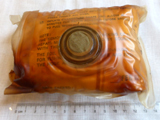 WW2 Folding Machete

Marked E.&C.S, 1945 with broad arrow mark. Some pitting and marks all over. Handle cracked on one side. Blade extremely sharp. Currently sheathed in a 1960's Golok scabbard which you are welcome to have. £25 SOLD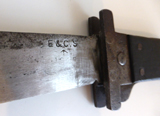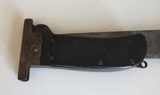 RAF Safety / Survival Matches

12D/1270

No 4, Mk1. These are waterproof matches found in certain survival kits of the 1950's. Has been used. Yellow rubber strike cover a little loose - otherwise very good condition. Base is 4cm across. £10 SOLD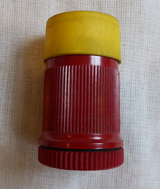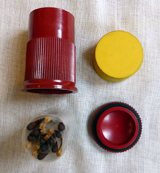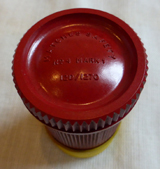 WW2 RAF Husband & Wife Documents, Ephemera, Photographs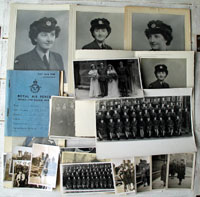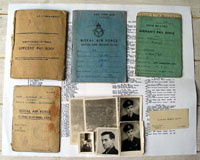 Flight Lieutenant Robert Gault (1919 - 1991)
Service and Release Book Form 2520C
Airman's Pay Book Form 64
Flying Clothing Card Form 667B issued 21st April 1942 (4 out of 5 pages filled with his flying clothing)
Air Forces in India Officers' Pay Book Form 64A Part I (contains inoculation certificate, Post Office telegram re: wedding, berthing card, receipt from No 2 Officers Mess in Ceylon, 2 x account slips from RAF Saigon, sheet of Services Clothing Coupons.)
Robert's calling card
6 x small photos of Gault in uniform
Photocopies of the London Gazette showing promotion to Pilot Officer and Flying Officer.
LACW Joy Margaret Gault (Foster) (1918 - 2004)
Service and Release Book Form 2520B
4 x large (backed) photos of Joy in uniform
Large backed photo of friend (Pam) in uniform
5 x various sized photos of Joy and colleagues in uniform
8 x smaller photos of Joy and colleagues in uniform
4 x wedding photos - Robert in uniform (married 1945)
Very hard to find RAF husband and wife collections. £150 SOLD

Eastman Leather Irvine Flying Jacket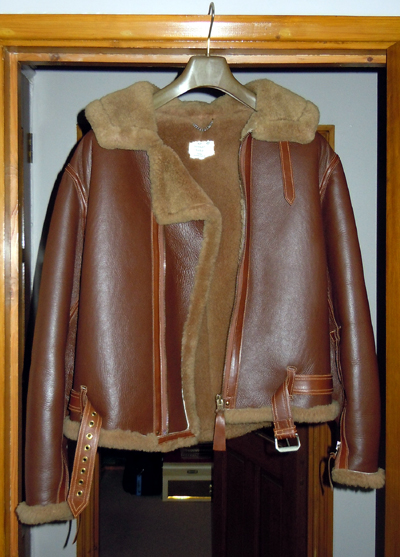 A colleague of mine in The Spitfire Society is selling his Eastman jacket. Purchased a few years ago for £550, it looks unworn and fits a size 40 chest. He is asking a very reasonable price of £300. SOLD

WW2 RAF Training Ephemera from No.1 Central Navigation School, Rivers, Manitoba, Canada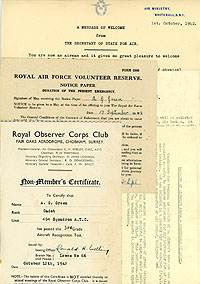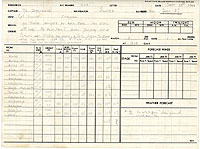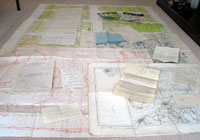 A large selection of maps, flying log sheets and assorted paperwork belonging to Flying Officer Alexander George Green who trained at the No.1 CNS at Rivers in 1944 / 1945. He relinquished his commission in 1951.
A message of welcome from the Secretary of State For Air 1st October 1942
RAFVR Notice Paper Form 2128
Members of Aircraft Crews - Conditions of Entry
Members of Aircraft Crews - Conditions of Entry and Service A.M.I.B./Sub.96
Royal Observer Corps Club Non Member's Certificate for aircraft recognition
2 editions of 'Message to Base' - August & September 1944 (some rust marks - staples now removed)
21 pages of typed notes on the Browning gun (some rust marks - front page loose)
2 x RCAF Aircrew Weather Observation sheets. Form RCAF T.57 RAF 2330 (both filled out and 1 with comments / marks by instructor)
32 (thirty two!!) x RCAF Flying Log Sheets. Form RCAF F.23A (all filled out and mostly with instructor comments / marks)
A large colour paper map of Bremen in Germany approx 69cm x 86cm. Some wear to the edges, folded with some pencil annotations. Produced in Canada and dated 1941
A large single colour paper map of the English Channel approx 76cm x 106cm. Navigators calculations / plots in pencil. Marked 'For Classroom Use Only'. Very good condition with a little wear to some of the folds
A large linen backed colour map of Lancaster, Southport and Preston in England. Ministry of Transport road map dated 1923
A large colour paper map of the Canada / USA border near Winnipeg. Published in America in 1942. Marked 'restricted' and 'Sectional Aeronautical Chart'. Excellent condition.
6 x large colour maps of areas in Canada. Published in 1943 / 1944 and marked Air Navigation Edition. Maps in excellent untouched condition approx 77cm x 61cm. Neepawa - Gypsumville, Broadview - Dauphin, Brandon - Winnipeg, Kenora - Hudson, Indian Head - Brandon, Swift Current - Regina. £95 SOLD

RAF Uniforms Belonging To Wing Commander R.V. Fiddick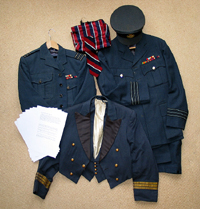 'Wing Commander R.V. Fiddick joined the RAF as an Airman and his flying career commenced on the 2nd February 1927 with 13 Squadron. On being posted to 208 Squadron he saw service in Egypt at this time flying mostly Bristol fighter aircraft. In September through to October, flying from Ramleh, he flew 'CW Operational Patrols' on a number of occasions. Returning to the UK in 1932 he once again began flying with number 13 Army Co-operation Squadron. He last flew in November 1935. At the outbreak of WWII he was serving in Malta and received a commission in April 1940. By 1944 he was serving at Bentley Priory with the rank of Wing Commander. He retired in 1963.'
Post war officer's service dress jacket (anodised King's Crown buttons) and trousers with service dress cap (bullion cap badge). Medal ribbons for 39/45 Star, North Africa Star, Defence Medal, War Medal, MID, EIIR Coronation Medal and RAF Long Service & Good Conduct Medal. Post war officer's battledress jacket (named) and trousers. Mess dress jacket and waistcoat (both King's Crown buttons). Regimental silk tie and scarf. Also included is a short description of Fiddick's RAF career (there is mention of a log book which I do not have) and copies of numerous entries from the London Gazette.
There is a bit of moth damage on the front of the service dress jacket and the crotch of the trousers (see pics). Oak leaf missing from the battledress jacket. £250 SOLD

WWI Compass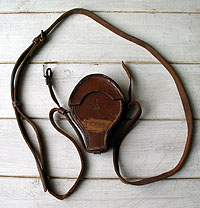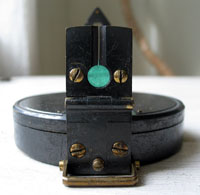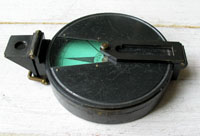 Marching type compass made by Savage & Son, Sandhurst. In working condition. The number '204' on the base. Some surface scratching. Comes with leather case and carrying strap. The securing strap on the case is shorter than it would have been originally but the the case 'top' can still be secured using the strap and buckle. A name has been scratched out on one side of the case and the initials G.A.H. have been written on the other side. Main carrying strap is well used. £50 SOLD

1950s Bomb Selection / Release Panel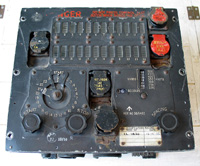 Air Ministry stores reference number 5D/1482. Manufactured in 1950 and probably used on something like the Canberra. Has had plenty of use but the knobs turn and the button flaps lift freely - some of the flap retaining clips are missing. Push buttons Air Ministry marked 5C/898 (some chipped). Approx 27cm x 24cm x 15cm - heavy. £40 SOLD

Tachoscope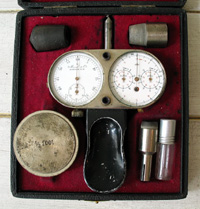 Made by Moul & Co, London. I am not very familiar with this instrument but handily there is a typed note outlining how to use it. Everything seems to be working perfectly but I am not an expert. The back of the instrument is marked 22443. Case measures approx 14cm x 15cm x 3.5cm. £45 SOLD

RAF Music Drape 1950s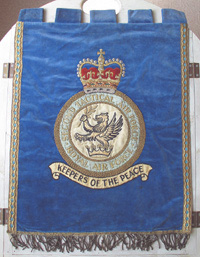 Retains good colour - silk and gilt embroidered badge - lovely plush velvet - tassels a little tarnished. Second Tactical Air Force redesignated 1959 so in use before then. An impressive display piece. Approx 60cm x 44cm. £50

RAF Battledress Blouse DFC 1951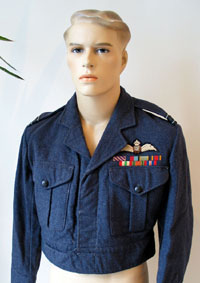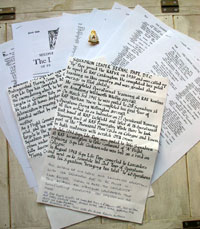 War Service Dress Blouse, New Pattern, Size 9. Belonged to Sqn Ldr Bernal Pape DFC. Jacket is clean and in very good condition with some signs of wear on the right cuff and above the right chest pocket. Black King's Crown buttons, King's Crown wings, Flight Lieutenant shoulder rank with Volunteer Reserve brass badges (split pin). Medal ribbons for DFC, 39/45 Star, Aircrew Europe, Burma, Italy, Defence and War medals. Comes with 2 A4 sheets (copies) outlining his RAF service. Pape flew with 218 Squadron in 1941 (Wellingtons). He became an instructor with 27 OTU and 18 OTU where he took part in the thousand bomber raids over Cologne and Essen. In 1943 he went to 166 Squadron taking command of 'A' Flight. He converted to Lancasters and went on to complete his second tour of operations. Also included are his London Gazette Entries and a 166 Squadron King's Crown badge. £95

WW2 R.A.F. Cable Tensionmeter Type S.M.E. Mk V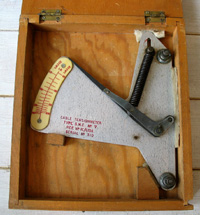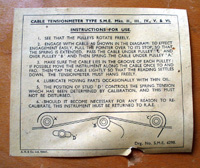 Stores reference number 1C/6136 (Tools, General, S-Z). Additional reference 16SR/465. Original instructions on inside of box. One box hinge missing spindle. £30 SOLD

1950s G.90 Gun Camera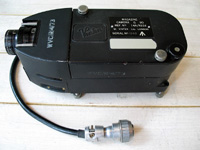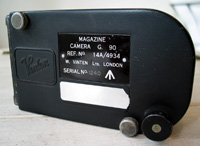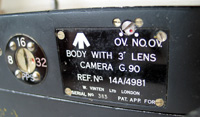 As fitted to Hunters and Lightnings. Stores Reference number 14A/4981. Made by W Vinten Ltd, London. Comes with original magazine (no film) 14A/4934. Body also stamped WVC/R/4/73. Three inch lens made by Taylor, Taylor & Hobson Ltd, England. Serial number 383 - much scarcer than the G45. Excellent condition. £90 SOLD

RAF Trousers, Overall, Flying, Cold Weather, MkI with Braces 1950s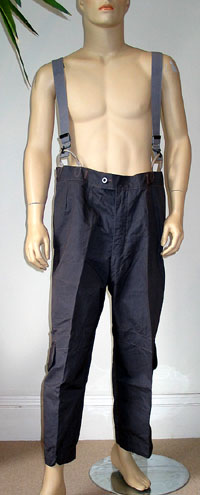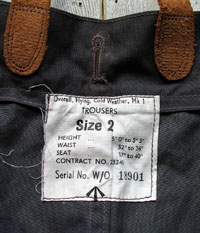 Size 2, stores reference number 22C/1154 (part). In excellent condition, possibly unissued. Large Lightning zip, drawstring bottoms and 3 leather loops for the braces. Braces are mint and boxed - stores reference number 22C/1161. £45 SOLD

RAF Emergency Rations Mk5 1950s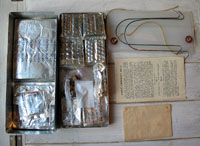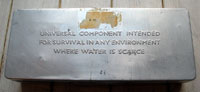 Stores reference number 27P/27 Box A. 'Universal component intended for survival in any environment where water is scarce'. Metal tin measuring approx 25.5cm x 10.25cm x 5cm. Has been opened and some of the contents opened / used. Original instructions and contents list. Many original items including 2 handles for the tin, water/food bag, toilet paper, 3 packs of biscuits, 1 pack of sugar cubes, 1 large oatmeal block, 1 book of matches, 2 packs of tea/milk/sugar powder & salt tablets. Also remains of a chocolate bar, oxo cubes and block of cheese (which I have bagged as it smells a bit!) £45 SOLD

WWI Original Pattern Sidcot Suit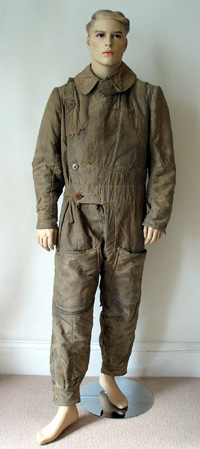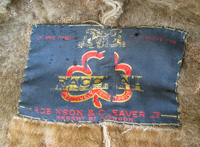 The very first of the Sidcot suits used by The Royal Flying Corps. Designed by Sidney Cotton with the help of Robinson & Cleaver Ltd and produced in 1917. A one piece suit consisting of a waterproof outer over a rubber coated muslin and a mohair inner lining. This rare example is well used. Numerous holes, marks etc and a bit grubby but it's still in one piece. Heavy wear to parts of the inside leg. Many nice original buttons and mohair lining is good. An extremely hard to find piece of early flying clothing and now nearly a hundred years old. £400 SOLD

WW2 Hurricane Aircraft Tail Wheel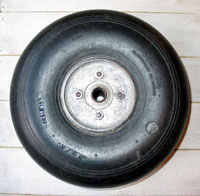 Used but in very good condition with all nuts and valve cap. On one side marked 4.95 - 31
⁄
2 Electrically Conducting & WM14 in a circle & 31233. Additionally on the other side, B3/A & 123L3140 & 31234. There's also an inspection stamp but I can't make out what it says. SOLD

WWI RFC Flying Coat Belonging to Theodore Quintus Studd DFC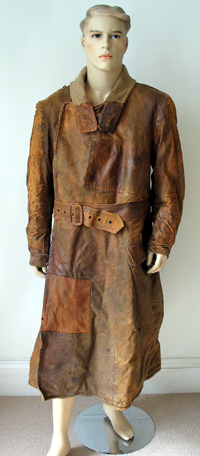 I am selling this on behalf of a colleague who lived near Studd when he was younger and bought this coat at one of Studd's 'garage' sales. Theodore Quintus Studd was a well known figure in the services and held a commission in all three: Navy, Army and Royal Flying Corps / Royal Air Force. As well as being awarded the Distinguished Flying Cross in 1918, he was Chief Instructor at No. 4 Flying School / Egypt in the 1920s and Commanding Officer of 56 Squadron at North Weald in the 1930s. The coat comes with a few photocopied documents outlining Studd's career - but there is also a lot of information available online. The Flying Coat itself is not in good condition. It is well worn with some large rips / tears and the leather is very dry in places and powdery with one repair to the front. But this is an important piece of early flying clothing with provenance. £250 SOLD

WW2 Australian Sidcot Suit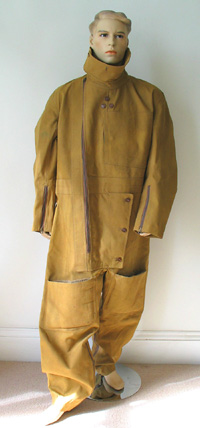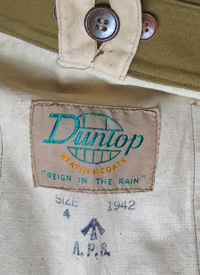 A very heavy Australian variant of the WW2 Sidcot Suit in near mint condition (few marks / scuffs). Made by Dunlop and dated 1942. A.P.S. possibly means this suit was earmarked for the Australian Public Service. The suit is essentially an outer piece with the usual buttons for attaching a liner and a fur collar. I'm not sure what a Size 4 is - but as you can see from the pics it completely swamps my mannequin so I'd say it's on the large side. £175 SOLD

Original 1950s MkI Bonedome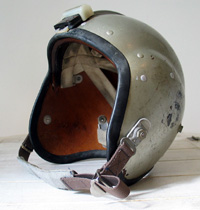 Stores reference number 22C/1519 - Protective Helmet Mk I. This was the first hard helmet issued in the early 1950s, worn with the F Type cloth flying helmet and originally coming with a visor (the Mk I) that had an elasticated strap and was worn like a pair of goggles. This helmet has been modified to take the later visor and rail (22C/1252982). Later helmets (Mk IA) were manufactured together with the rail and assigned a new stores reference number. Some paint loss but generally very good condition £60 SOLD

C Type Headband - Boxed and unused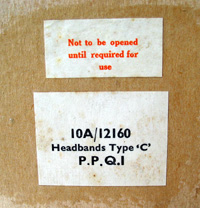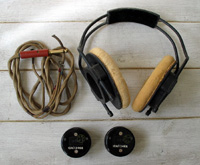 Headband stores reference number 10A/12160 - Type 32 receivers 10A/13466 (same type used in C Type flying helmets etc) and lead / loom with Air Ministry marked plug 10H/488. Post war variant - packaging dated 1961. £65 SOLD

1950s A-13-A2 Oxygen Mask - Boxed and Unused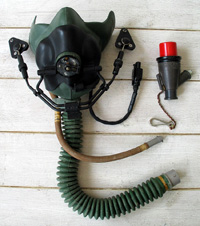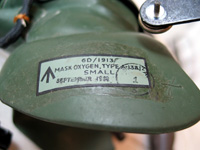 RAF modified American oxygen mask used in the 1950s. Stores reference number 6D/1913. This A2 variant is fitted with the black metal harness 6D/1910 and the MC 3A connector 6D/2003 (removable red cap marked 6D/2226). Oxygen hose bayonet connector marked 6D/2053. Type 57 microphone with lead marked 10HA/12141. I will include a photocopy of original instructions. £60 SOLD

Air Ministry 'Soup' Container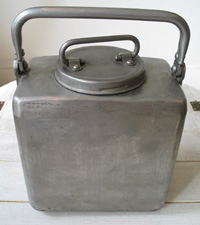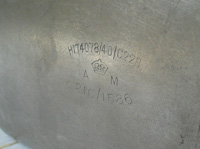 Air Ministry stores reference number 21C/1586 (Barrack equipment, metal ware). A simple non lined container - presumably for liquids - with screw on lid. Approx size including top handle is 28cm x 21cm x 12cm. Plenty of surface marks but very good condition. £30 SOLD

Airborne Lifeboat Timer Instrument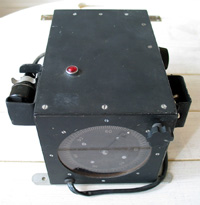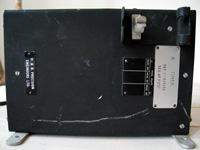 Air Ministry stores reference number 9/4530. Used in conjunction with a special slide rule, this instrument was fitted to aircraft adapted to carry the airborne lifeboats (Hudsons, Warwicks, Shackletons etc), and released the lifeboat by pressing the firing switch (5D/534). Introduced in WW2 and used in to the 1950s. Approx 13cm x 18cm x 21cm - heavy. Excellent condition. £30 SOLD

1941 Pattern Mae West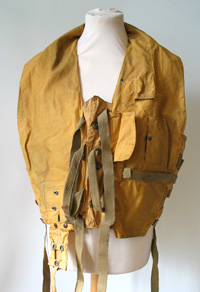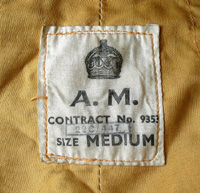 Air Ministry stores reference number 22C/447. A nice example of the classic Mae West from WW2. The material is generally in very good condition with only some soiling. Buttons all present and the rear zip is original and working. A lovely Air Ministry label makes it more desirable than the often seen later 'crow's foot' label. The flotation torch pocket has suffered what looks like acid burn - presumably from an old leaking battery. The retaining flap is also missing. The ring for attaching the whistle has pulled away slightly from the material and one of the rear leg straps is shorter than it should be. Otherwise a lovely life jacket that displays very well (outer only - pockets empty and no bladder / kapoks). £300 SOLD

S.A.A.F. Complete Irvin Seat Type Parachute and Harness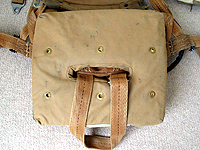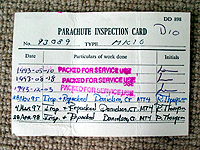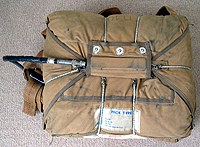 Instantly recognisable as the British made Irvin seat type parachute. This version was made in the 1980's and used by the South African Air Force. It is complete with harness and all straps, parachute, cover and cushion. It has a lead seal from the last time it was packed and comes with the record of its inspections in the 1990's. If this parachute is professionally inspected and re-packed, there is no reason why it can't be used again. Of interest is the cushion which is identical to the WW2 version, although typical of S.A.A.F. parachutes, this one has been modified to fit a first aid kit (not supplied). Weight is approx 11 kg. Click on the pics for larger ones. £350 SOLD

Mk IV Mae Wests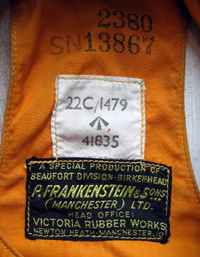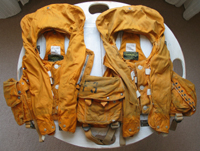 Or to give them their correct title, 'waistcoat portion, aircrew life jackets Mk IV'. Stores reference number 22C/1479. Made by Frankenstein & Sons. Classic life jackets from the 1960s. £50 Each SOLD

Personal Dinghy Pack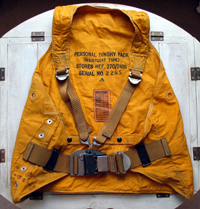 Waistcoat type. Stores reference 27C/2486. Large buckle marked 27C/2563. 1960s. Hi vis interior. Empty. £25 SOLD

Survival Pack Type A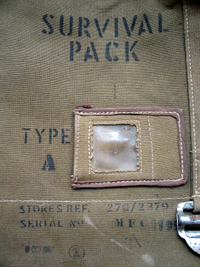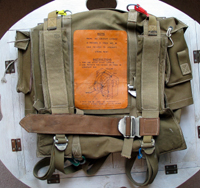 Stores reference number 27C/2379. 1960s. Complete with harness. Empty. £45 SOLD

Personal Survival Pack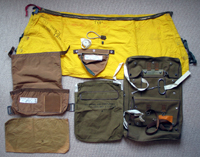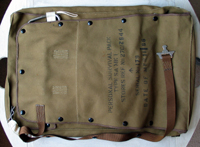 Type SA Mk I for the Mk IV life raft. Stores reference number 27C/2644. Buckle marked 27C/2406. Complete with all internal bags / packs (empty) 27C/2680, 27C2679. Possibly issued but looks unused - one oil mark on the back. 1960s. £50 SOLD

Personal Survival Pack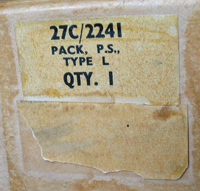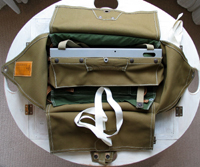 Type L. Stores reference number 27C/2241. Complete and unissued in original box. Packaging is dated 1960s but the Type L was used originally in the 1950s. £65 SOLD

F.24 Aircraft Camera With Type 21 Camera Mounting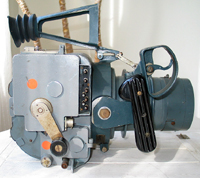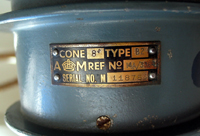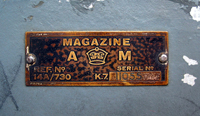 A lovely example of the classic Williamson F.24 camera as found in Photo Reconnaissance Spitfires. Comprises main body, magazine & 8" focal length lens with gear box and Type 21 Camera Mounting for 'hand held oblique photography' (AP 1355). Numerous Air Ministry stores reference numbers / plates all prefixed with 14A. The camera is in working condition and has the usual paint loss and marks associated with use. The rubber eye piece on the sight frame has hardened in places but is still usable. Total weight is around 10 kg. £350 SOLD

Early / Pre War 2 Panel Irvin Flying Jacket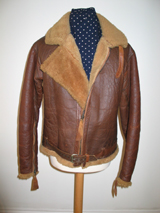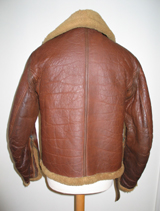 A good condition example of the classic Battle of Britain period flying jacket. Two panel back and front. Dot zips with original leather pullers, belt & hanging chain. Label is long gone. I have a 41" chest and I'm 6'4" with long arms and I can wear this comfortably with a fleece on underneath. Some wear to the collar and the underside of the left arm near the wrist. A couple of small 'snags' on the right shoulder. Both arms have surface 'crazing'. On the left arm near the shoulder, the thin finish or outer layer has cracked in a couple of places. This is a desirable jacket in a good size. Perfect for display but can still be worn. £550 SOLD