My Father-in-law
John 'Jack' Monk Lewis, Royal Canadian Artillery
1924 - 2020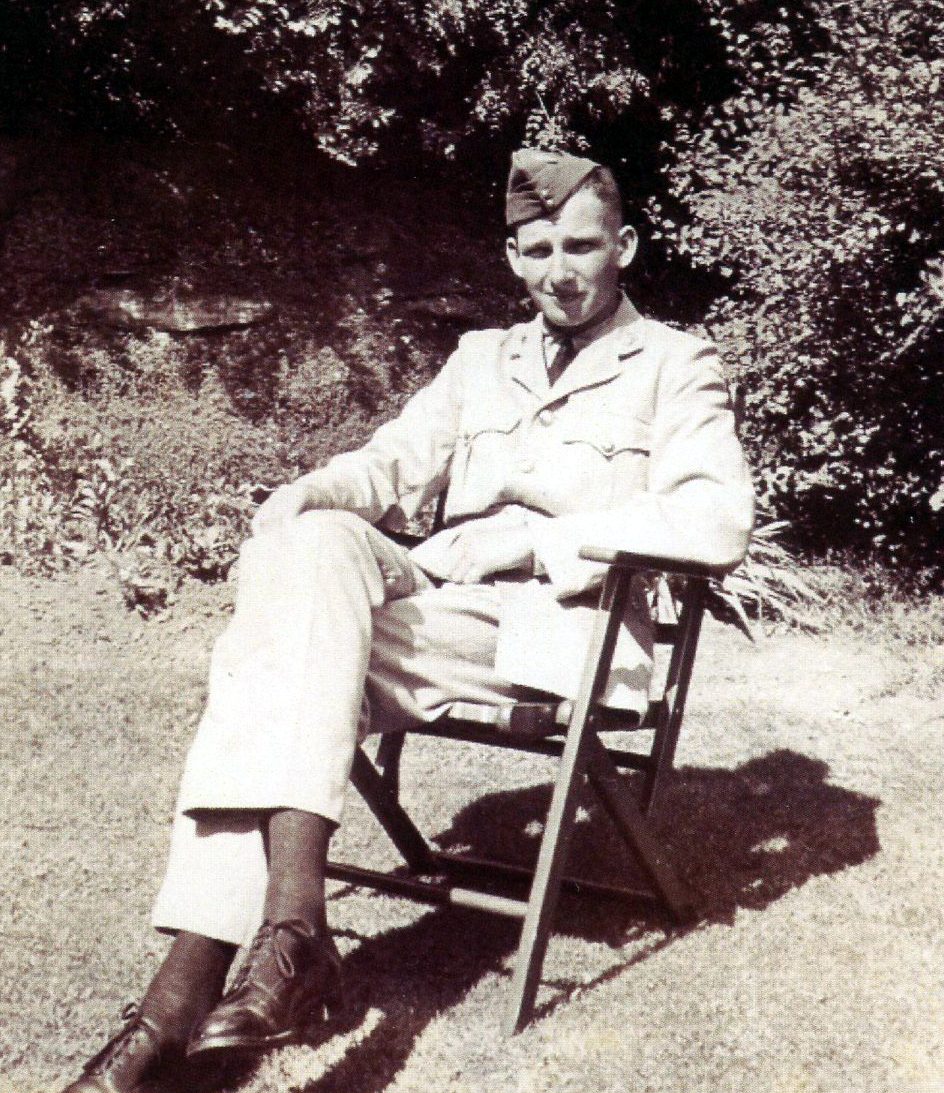 Monday May 10th 1943. Jack and his best friend John Elder visited the local enlistment office in Montreal, Canada. Too young to be officers, they were sent to Brockville, Ontario to be trained as officer-cadet instructers (ie they were to be instructers of officer-cadets - but were not officer-cadets themselves!).

At Westmount High, Jack had been in Number One Westmount Squadron of the Air Cadets. It was the first squadron formed in Canada and he finished there with the rank of Sergeant. Despite this, and due to less than perfect eyesight, he was assigned to the Canadian Army when he enlisted.

September 1943 saw him leave Halifax with John aboard the Queen Elizabeth bound for Scotland. 15,000 troops were crammed onto the ship as opposed to 2000 passengers in peacetime. Then on to an infantry reinforcement depot near Guildford, Surrey. Still dismayed at being assigned to the infantry, Jack and John contacted John's father who was a medical Colonel in charge of one of the Canadian corps. He promised to see if he could get them reassigned.

Shortly afterwards, they were packing their gear up - about to be sent to Italy with the Irish Regiment of Canada to reinforce the allied invasion from Sicily - when at the last minute they were called from the trucks and informed that they were to be transferred to the Royal Canadian Artillery.

They trained during the winter of 1943/44 to become 'surveyors' responsible for keeping track of targets and the direction and range of the target from the gun position. At this point, he and John ended up in different divisions and Jack didn't see his best friend again until after the war.

On June 6th 1944, Jack took part in the invasion of Normandy (13th Field Regiment, Royal Canadian Artillery).

In his own words: 'It was a very impressive display of naval capability. I was on a landing craft that had room for 4 tanks. The tanks actually fired their guns from the water in support of the troops ahead. This was quite an exciting event. The tanks we had were 'open pit' style (self-propelled) and had a larger gun than most tanks. An unfortunate event occured right beside our boat. The neighbouring boat, maybe 50 yards away, was a rocket ship (LCT R) where rows of rockets were used in place of artillery. They weren't very accurate, but they were bound to hit something on land if enough were fired. An allied aircraft happened to fly overhead and was hit by about 10 of these rockets. It was totally destroyed in the air. That was a sad example of friendly fire.' (aircraft was probably Mustang I AM225 of 168 Sqn flown by F/O Barnard. Gerry)

'The first night was the scariest night I had. Darkness prevailed, of course, and there were German Tiger tanks in the neighbourhood. "Anybody here familiar with PIAT (Projectile Infantry Anti-Tank) guns?" asked the Sergeant. I put my hand up. "Good, Lewis, here's a PIAT gun. Take it onto the field there and dig yourself into a little hole. Don't fire at the Tiger tank until it's within about 10 or 15 feet if you want to be effective." I took the gun out there and dug myself a hole. I could see enemy soldiers crouching in the distance. Fortunately the night didn't last too long; the sun rose and, to my relief, the crouching soldiers turned out to be nothing more dangerous than stooks of oats from the first harvest! The Tiger tanks never did come, thank God.'

Next came the bombardment of Caen which was occupied by the Germans - and then on to Falaise meeting up with the Americans. Jack continues: 'Not much was happening. We were waiting for our bombers to come over, so we weren't firing anything. I had the use of a half-track vehicle and lent it to some of the troops who had been sent off for a shower and a change of clothing. The allied planes came over and started bombing pretty close to us. "Lewis, where's the yellow smoke?" demanded the Sergeant-Major. "It's gone to the showers with the half-track" I replied. "You stupid arse. Do you realise these bombs are going to hit us?" "Well, what can I say?" was my lame reply. As it turned out, we didn't suffer any casualties at all, but there were other units that did have yellow smoke and suffered casualties as a result. I read years later that there had been a terrible mix up in the communications. Yellow smoke was a target signal for the Air Force, but a warning signal for the Army. The result was that units who didn't have the smoke were less likely to be hit. I never got an apology retroactively for having forgotten to take the smoke off the half-track!'

Jack was then sent up towards Calais and later spent the winter of 1944/45 near Nijmegen, Holland. On February 8th he crossed into Germany. He was out of action between February 10th and April 20th including a spell at the Canadian Army hospital in Hertogenbosch.

After VE Day, Jack was sent to an army of occupation unit and spent several weeks in the summer of 1945 near Oldenburg, Germany. After this he went to a Canadian army university (Khaki) being set up in England. He returned to Canada in May 1946.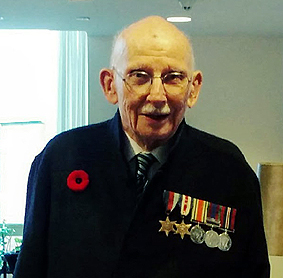 MkIII 'Turtle' Helmet

This is Jack's actual helmet that he wore during the invasion of Normandy.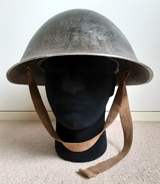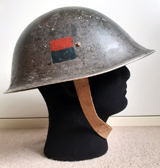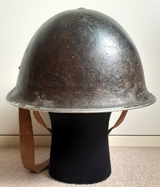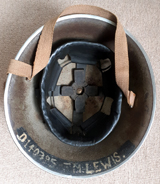 Here are some of the 'souvenirs' that Jack picked up on his travels (click on the pics for larger versions):


German M1916 (M16) Stahlhelm (Steel Helmet)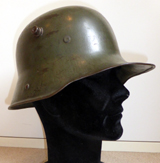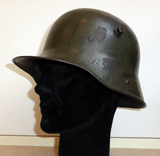 Jack explains how he found it in Normandy: 'We were positioned near Douvres (now Douvres-la-Délivrande). I was taking a break and noticed a dogfight above us. As I watched, the German fighter was hit and went in to a steep dive. It looked like he was coming straight for us. I took cover behind a low wall and I remember seeing the pilot put his arms up to his face before impact. As I got up, I noticed the helmet lying beside me. I thought it was current issue. It was only many years later that I discovered it was from WWI.'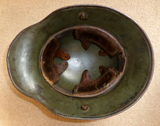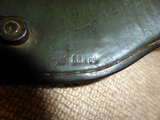 The owner's name is written on the inside of the shell and on the back of one of the pouches holding a horse hair pad. The maker's stamp is 'GBN 64' - Gebruder Bing, Nürnberg.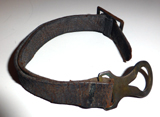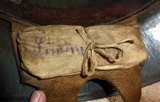 The remains of the original chinstrap show the early M1891 pattern buckle.


German Belt Buckles

Army (Wermacht)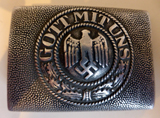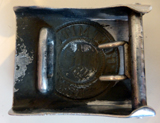 Can't read the maker's initials.

Luftwaffe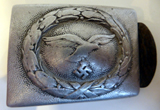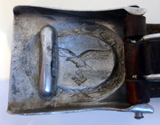 RS&S (Richard Sieper & Sons)

Hitler Youth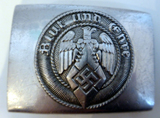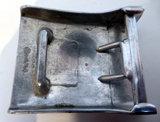 RZM M4/46 (Wilhelm Schroeder)


Waffen SS Other Ranks Bevo (sleeve)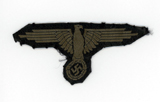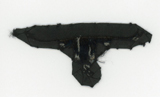 Party Badges (tinnies)
Labour Day 1934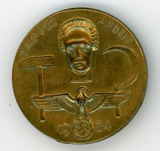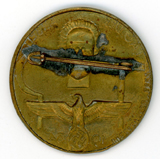 Hoffstätter Bonn

Reichs Party Day 1939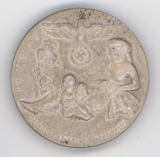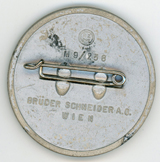 RZM M4/238 Bruder Schneider AG Wien

Hitler Youth March 1937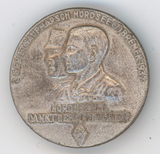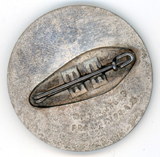 Wilh.A.Jäger Frankfurt AM

1st May Day 1937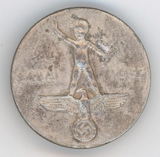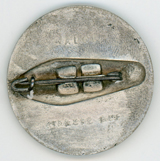 Walgo Kierspe BHF

I have been asked about the condition of these last 3 tinnies. When Jack gave them to me, they were very dark and suffering from corrosion and oxidation - you really couldn't see the detail. I was worried that they were going to continue to break down unless I did something to preserve them. I cleaned them in fresh lemon juice, then gave them a thorough rinse in water and dried them off. Finally I applied a thin layer of Renaissance wax (available on Amazon & Ebay). I have not had to treat them since.




Adolf Hitler Cigarette Card Album



Produced in 1935/36 by Cigaretten-Bilderdienst Hamburg-Bahrenfeld. This example is complete and in very good condition. Jack thinks he found it in a bomb damaged library. There is a sychophantic forward by Goebbels (I can read German!) and a dedication to Julius Schreck by Rudolf Hess. Topics include Hitler's private life, the Wermacht, German youth, German workers etc. There's even a section on Hitler's watercolour paintings.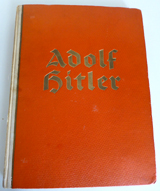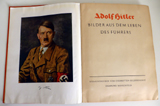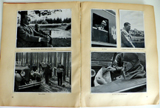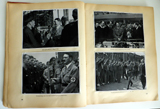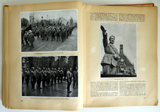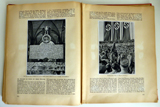 Umkämpfte Küsten Propaganda Book



Produced in 1943 by Marine-Propaganda-Abteilung West with a forward by Wilhelm Marschall, Generaladmiral and Oberbefehlshaber of the Marinegruppenkommandos West.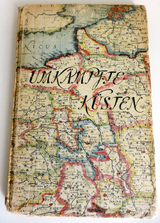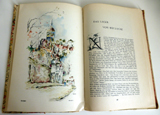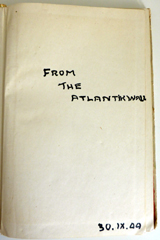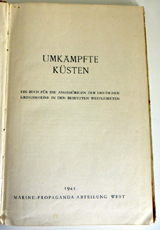 German Coins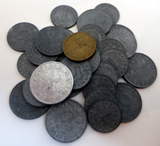 1, 5, 10 & 50 Pfennigs 1938-1944