My Collection
Rather than show you pictures of my Irvin jackets, flying boots, helmets etc (similar items can be seen on other sites) - I thought I would share with you some of the more obscure / interesting items in my collection. If you would like more pictures or further information on any of these - then please drop me a line. More items coming soon.
22C/912
Inner, Airborne Lifeboat Suit, Non Working Pattern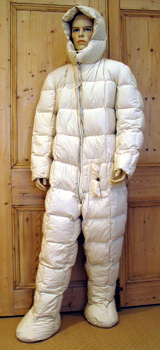 Sometimes you see these described as bomber crew thermal clothing. It's actually for aircrew that are injured or resting in the larger lifeboats. The 'outer' (not shown) is a waterproof coverall. The zip is Air Ministry marked and the 'snaps' are the standard 'Newey' type. The button on the opening flap is the standard type found on Sidcot suits. This item does not appear in the King & Humphrey 22C listing which is one of the reasons I'm listing it here.


Stores Reference Pic




22C/1044
Lining of Suit, Waterproof, Working Suit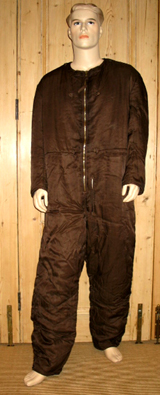 Another item that does not appear in the King & Humphrey 22C listing. It is somewhat similar in appearance to the later Sidcot Suit linings - but there is only one zip (this is Air Ministry marked). The suit also has a 'chunkier' feel to it compared to the Sidcot liner. There are buttons and loops to attach the lining to the actual Working Suit. Again, this was for use in the larger lifeboats.


Stores Reference Pic

22C/444
Outer, Sleeping Suit, Lindholme Dinghy



This strange looking garment was the first RAF survival item I ever bought. It was described as a 'late war survival suit'. In fact it was designed as a result of lessons learned during the Battle of Britain and was introduced in 1941. It has a thin black rubber lining and can accommodate a '41 Pattern Mae West bladder and kapok pads. The zips are made by Lightning. There is a metal ring at the bottom of the 'bag' which allowed you to be tethered to the dinghy and not worry about being washed away while you were having a kip.


Stores Reference Pic

27C/1898
K Dinghy Type C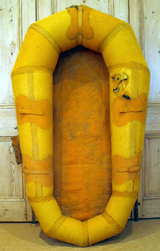 You don't see too many of these around any more. This type of K dinghy is the stripped down version with no apron or provision for mast and sails. It does have the holder for the larger MKI bellows and also for the CO2 canister. Issued in the D and F Type Dinghy Packs. Unusually, this particular example has no leaks and came with its original packing box.


Stores Reference Pic

22C/872
Screens, Visual Haze, MkI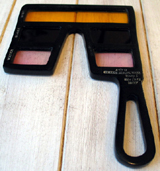 Three types of sunglasses in one - very stylish. It is made of bakelite with 3 rows of filters - for mist, glare & water. Amazing to still see it in one piece as it does appear to be very delicate


Stores Reference Pic




22C/992 (& 993)
Gloves, Chamois Leather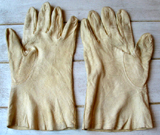 These 2 large sizes (9.5 & 10) were issued late in the war as standalone gloves with optional silk inners. It was only the earlier smaller sizes (22C/431-433) that were supposed to be used with the leather gloves.


Stores Reference Pic

Unknown Stores Reference
Communion Set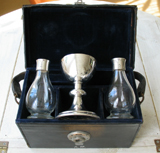 Sturdy carrying case covered in black leather with lock and silver embossed Air Ministry logo on the front. Blue velvet lined compartments. Glass cruets with silver tops and a solid silver chalice. Set would also contain a wooden wafer box and silver dish. Made in Birmingham and dated 1940.


Hallmarks Pic

27C/2113
Kit, Fishing



Plastic 2 piece container with waterproof instructions, weights, line, spinners and hooks. Found in many of the dinghy packs.


Stores Reference Pic
6E/271
Mirror, Signalling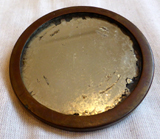 This is the rarer early version with a brass body. Later versions were made with bakelite. These are sometimes referred to as the 1932 pattern mirror - although they were not issued with the 1932 pattern Mae West. The nomenclature for 6E is 'Miscellaneous Instruments, Accessories and Unit Servicing Spares'. Made by J. & R.O. Ltd and dated 1939.


Stores Reference Pic




22P/11
Knife, Pocket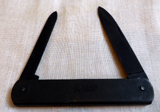 A rare intact example with clear AM stamp, makers initials (G.I. for George Ibberson) and stores reference number (22P being 'Survival Equipment'). AP1182C also refers to it as a 'Clasp Knife'. Issued with the Beadon suit and various survival packs (Dinghy etc).


Stores Reference Pic




15A/222 & 15A/237
Cushions, Pneumatic (Seat Type) with Cover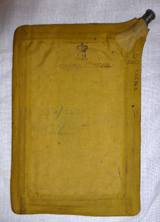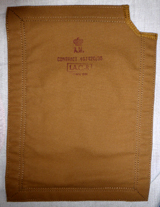 Not something you come across every day and probably saw limited use. Issued under 15A - 'Man Carrying Parachutes', the description says it all really. Both boxed. The contract number is dated 1935 and the cover has a manufacture date of 1936. Presumably a predecessor of the standard cushion associated with the WW2 seat type parachute.


Stores Reference Pic (Cushion)




Stores Reference Pic (Cover)




6D/481
Tube Adaptor, Complete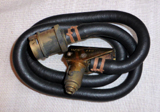 Full name: Tubes, Adapter, Oxygen, 2ft. 6in. Long. Only the rubber tube itself is referred to as the Mk III. Allowed for older aircraft sockets (for the D Type oxygen mask) to be used with the later oxygen hose connectors (eg G Type mask). Fitted with a Mk IIIB bayonet plug (connector) on one end (6D/101) and a Mk IVA socket (6D/482) on the other. Mine is boxed. There is a shorter version 6D/560 and 2 longer versions: 6D/561 and 6D/559. Haven't seen another of these in a long time. Last dealer who sold one was Ivan Hiller of British Collectibles in California. Anyone know what happened to him?


Stores Reference Pic




Wellington 303 Ammunition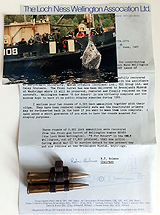 Not flying clothing related this time - but something that is always appreciated by collectors. Way back in 1987, Flypast featured an appeal for funds to help raise the front gun turret from a Wellington bomber (R for Robert) found in Loch Ness, Scotland. In return, you were sent a letter, some pictures and 2 rounds of .303 ammunition that were recovered along with the turret. N2980 is still on display at Brooklands museum.


303 Headstamp Pic



More soon ...