Imposters
There are plenty of reproductions available which will sometimes be sold by dealers / sellers as the real thing - but they were originally offered in good faith. Here are two blatant attempts at deception and one 'refurbished' pair of goggles that dealers are still offering as originals.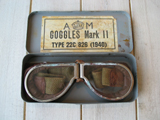 Oh how pleased I was with myself as a newbie RAF collector to have found a pair of MKII goggles for under $100. I bought them from a well known aviation dealer in America who assured me they were genuine. These are a great example of the lengths someone will go to deceive you. The biggest give away is the stores reference number which appears on the tin and the strap (22C/826) actually officially designated to MKVII goggles. The goggles themselves are the standard motor transport variety with a replacement strap and added stamps.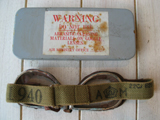 The labels on the tin have been 'distressed' and have very authentic looking foxing and other staining with the odd rip and piece of sellotape. I would love to know how many of these were made - and the amount of effort that went into making them. As that American dealer stated - 'these are one of our favourites!'

Not only are these still being sold as RAF Mae West lamps, but a few years ago someone released a load of them with a faked Air Ministry stamp and date (see box).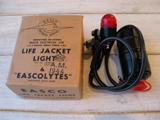 The patent on these lights was filed in 1940 and published in 1941. They were issued to the Royal Navy (and therefore Fleet Air Arm) but not used by the RAF.

MKVII goggles in unissued condition. Too good to be true?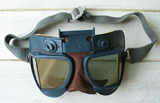 These are refurbished goggles put together by Steve Silburn. Perfect for reenactors but all too often sold by dealers as originals. The frames are original; resprayed with new lenses, eye pads and leather nose piece. The big give away is the strap. These are late/post war training goggle straps. The originals had 2 adjusting clasps as opposed to the single one seen in the pic.