My Grandfather
Gerard Gwyn Crutchley, Royal Flying Corps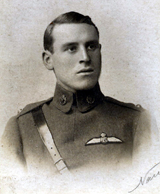 Left England for Russia in 1910 (age 17) and worked in surveying and oilfield engineering, mainly for Maikop Mutual Oil Transport Co Ltd. He quickly became fluent in Russian and was appointed Assistant to the Chief Surveyor and Oilfields Manager.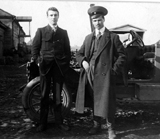 On the outbreak of war, he volunteered for military service and returned to England. He completed officer training with the University of London OTC and commissioned into the 15th Battalion Royal Fusiliers on April 9th 1915. He was stationed at Ipswich East Coast Defence from May 17th to November 13th (transferring to the 11th Battalion London Regiment (Finsbury Rifles) on October 26th).

His Finsbury Rifles field service cap and swagger stick.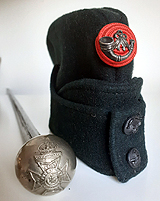 He was then shipped out to the Dardanelles (Gallipoli).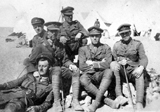 A Turkish rifle round picked up at Boulders' Bluff in November 1915 (possibly 7.65 x 53?).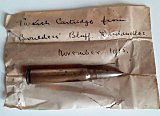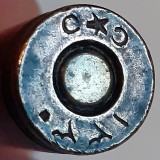 In December he was evacuated and sent to Egypt followed by (East of) the Suez Canal where he remained until October 30th 1916.

His wooden gas rattle is not marked but I understand this is an American design and not the standard British issue.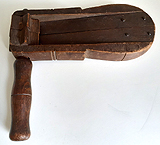 His wire cutters are clearly marked 'A11LDN' (for A company, 11th Battalion London Regiment) on the handle and are dated 1914. They were made by George Plumpton in Warrington. The leather case is marked 'A Co 11LDN' and is made by Hathaway Son & Co in 1915. The handle also has the broad arrow mark.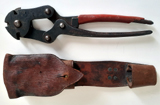 He then volunteered for the Royal Flying Corps and trained as a pilot with the 20th Reserve WIng in Aboukir and Ismailia, qualifying on December 23rd 1916. A short spell at the Flying School in Heliopolis and then back to the UK (Cramlington, Huntingdon and finally at RAF Wyton with 65 Squadron).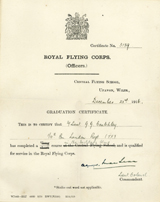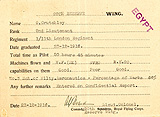 Because of his fluent Russian, he went on to train Imperial Russian Flying Corps officers in England from March to October 1917. Based at the No 1 School of Military Aeronautics at Reading, he flew from various airfields such as Upavon, Waddington and Northolt.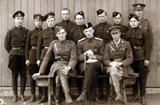 On July 10th 1917, he suffered a fractured skull when he was struck by a propeller as he was starting his BE2E. His family were told it was unlikely that he would recover. He remained in Hospital until August 15th, then back to training Russian pilots in Reading.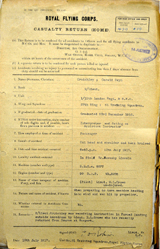 In December 1917 he was posted to the Royal Flying Corps Mission in Russia (mainly Moscow and Petrograd) and continued instructing until February 1918.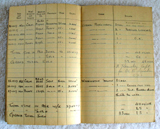 His flying coat and winter flying helmet have been on display at the Museum of Army Flying in Middle Wallop, but after 25 years they are now being placed in storage.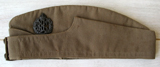 He married Helen Walton at the garrison church in Baku, Russia on 20th August 1919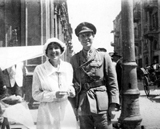 He ended the war attached to the Intelligence Corps on Special Service Duties and remained with them until November 1921, relinquishing his commission on November 18th.
Intelligence Officer with:
Col J "Klondyke" Boyle (Russia and Rumania)
Caucasas Military Agency (Baku and Caucasas)
Dunsterforce (Persia and Caucasas)
Gen Mallisin's Mission (Transcaspia)
Britforce (Baku and Constantinople)
Caspian Naval Force (Caspian Ports)
North Persia Force (Persia)
Sir Percy Cox (Baghdad)
Between 1922 and 1928 he was the London representative for Edouard Jonas, the French government art expert.

During the general strike in 1926 he volunteered as a Special Constable for the Metropolitan Police.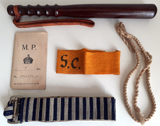 On 16th February 1928 he was recommissioned in the Territorial Army.

In 1929 he became a member of the 'Knights of the Round Table Club', proposed by his friend Charles Berry (of Berry Brothers). One of the aims, at the time, of this organisation was 'the cultivation of better international understanding' and I assume this was why he was asked to join. The seating plan for a dinner that my grandfather arranged at The Savoy Hotel in 1948 is an impressive line-up of foreign dignitories and officials. The club is still around today but is now a grant-giving charity.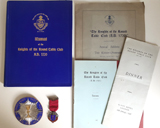 In 1938 he relinquished his commission and transferred to the Territorial Army Reserve of Officers.
By the 4th September 1939 he was working for the Air Ministry as a Production Officer. Promoted to Senior Production Officer on the 15th October 1940.

He became a local Fire Guard in February 1942 and enroled in further fire prevention duties in February 1943.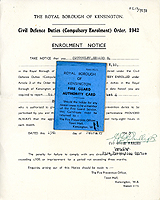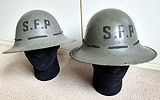 His SFP (Street Fire Party) helmet is the large size made in May 1941. The liner is marked MM41 7 1/4. I can't quite make out the helmet manufacturer but it looks like MPB. The second helmet belonged to my grandmother. It is a medium size and made in May 1941 by the Pressed Steel Company. Liner marked MM41 6 3/4.

Later in 1943 he became Assistant Director, Spares Production, Ministry of Aircraft Production. By 1949 his role was Assistant Director of Aircraft Production, Ministry of Supply, Thames House. He left the Ministry on the 14th April 1950. He had been ill for a long time and died in 1957.
Awards: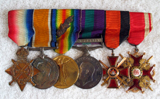 Miniatures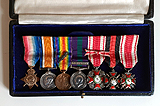 1914-1915 Star
War Medal
Victory Medal
General Service Medal (N.W. Persia clasp)
Mentioned in Dispatches January 20th 1921 (Mesopotamia)
Order of St Vladimir 4th Class with Swords
Order of St Stanislas 3rd Class with Swords
Order of St Stanislas 2nd Class with Swords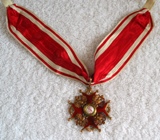 Extracts from service record:
'Assisted Col Joe Boyle in repatriating the Rumanian National Treasure from Moscow to Jassy (Moldavia).'
'Served as a Bolshevik commissar at Sebastopol, in which capacity he succeeded in sabotaging to a considerable extent the supplies of crude oil being sent into the interior for the use of the Red Army.'
'In co-operation with the British Vice-Consul and General Denikin, he acquired the entire Caspian Fleet which was then sent over to Persia to enable Dunsterforce to cross the Caspian and come to the relief of Baku.'
'Located the Bolshevik armed vessels "Chasevoy" and "Van" for the British Navy, which were hiding in the Caspian, and accompanied units of our fleet which proceeded to capture them.'
'Located and apprehended in the Caucasus the notorious Yuri Pacha who had for months eluded all our efforts to capture him.'
'Discovered plot to assassinate the Persian Prime Minister and his cabinet, and was instrumental in securing the arrest of the conspirators.'
'Conducted peace negotiations between the Bolshevik forces and the Persian government on the occasion of the Bolshevik invasion of N.W. Persia.'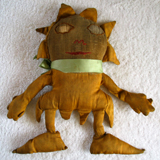 This was his lucky mascot 'Sunny Jim' which he always carried in his aircraft. It was presented to him by the famous actress Beatrice Lillie in 1917. She wrote 'Good Luck' on it together with her name. In a letter dated 19th April 1917 to his friend Humphrey Loch, he mentions that he has met someone from the stage: 'I met a little Peach in town about ten days ago and have had two glorious days with her already. She is on the stage and unfortunately has just started touring. This week she is in Folkestone. She is coming to London again soon though. Will tell you all about it when I see you.'


In 2014, authors Roman Firsov and Andrey Kartashev published a book in Russian entitled 'In The Sky of Two Empires'. My grandfather's story is featured along with many photos. Unfortunately the English version never made it to print, but the book is still a wonderful record of the co-operation between Britain and Russia during WWI.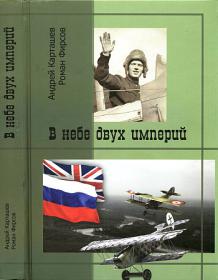 In 2019 my mother was clearing out some old batteries in a small box and found my grandfather's post war ID bracelet in amongst them! It could have so easily been thrown out. It was compulsary to wear one when flying and is inscribed: 'Capt. G.Crutchley I/XI London Regt. RC.' A big thank you to my mother for rescuing this lovely personal item.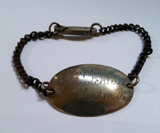 Research into my grandfather's military career is ongoing - I will post further details soon.